Kultsjögården
The hostel Kultsjögården is located in the middle of the beautiful mountain village in Saxnäs/Marsfjäll along the well-known road "Vildmarksvägen". Here you can choose to live in large or smaller cabins, apartments or hostel rooms. For a large group is the package named "mountain floor" suitable with 17 beds in 7 rooms – you will get all the hostel rooms and the living area for your group only.
If a self-catering accommodation that is close to ski- and snowmobile trails, fishing areas and trails for mountain hiking is suitable to you – then Kultsjögården is the place for you!
At Kultsjögården you have access to equipped kitchens for self-catering. All beds are equipped with a duvet and a pillow. You have access to a shared washing machine and a drying room too. A common barbecue area in the yard in front of the main building is free to use for all the guests. Wifi included in all of the accomdations. Final cleaning is not included in the price but can be ordered.
The reception is located in our grocery store "Marsfjällshandlarn" about 300 m from Kultsjögården. It is staffed during the store's opening hours. Here you can buy the groceries you need and refuel your car while you live with us. In Marsfjällshandlarn. you will find our Fishing Center where you can find souvenirs, outdoor equipment, get tips and advice for your stay. Our ambition is to be your guide to exciting, interesting and enriching experiences in our fantastic mountain world both summer and winter.
If you plan to arrive later than the opening hours of the reception we are grateful if you call or send us an e-mail in advance. Then we can arrange a suitable way to check in and get access to the key for your room, cabin or apartment.
Read more about our different accommodation below: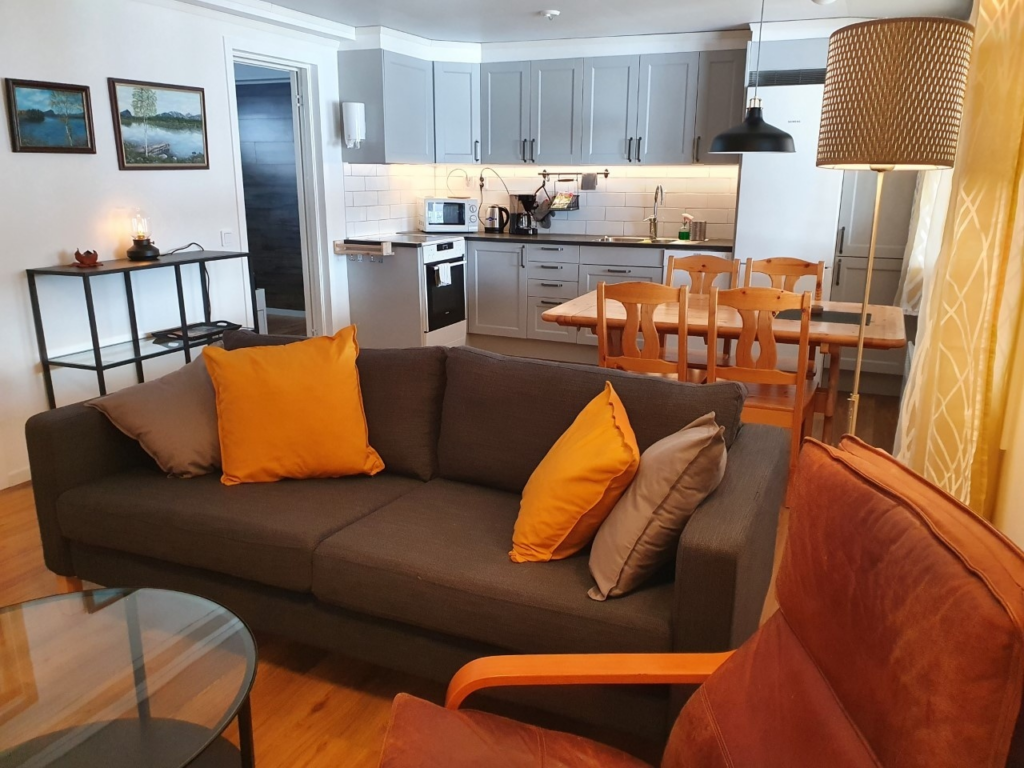 Mountain apartments with a cottage feel and private glazed veranda at Kultsjögården. Here you live in one of two similar apartments of about 60sqm. In one of the apartments there is a wood burning stove where you can light a warming fire.
The kitchens in both apartments are large, comfortable and they are well equipped with dining table, chairs, stove, fridge, freezer, microwave, coffee maker, kettle, toaster and utensils. The living rooms have a sofa, armchair and a TV with Chromecast. Both apartments have 2 bedrooms. One of the bedrooms has a double bed and the other has a family bed with the lower bed a little wider. In the apartments you have a private toilet and shower. The private glazed porch are facing south towards Insjön and Satsfjället. Out in the yard you can hang out at a common barbecue area.
Mountain apartment 9 can be reached from Kultsjögården's main entrance and it has a slightly lighter interior style.
In mountain apartment 10 you have a private entrance from the outside on one end of Kultsjögårdensmain buildning. The apartment gives a cozy mountain feeling with its wood burning stove and wooden furnishings.
Hostel at Kultsjögården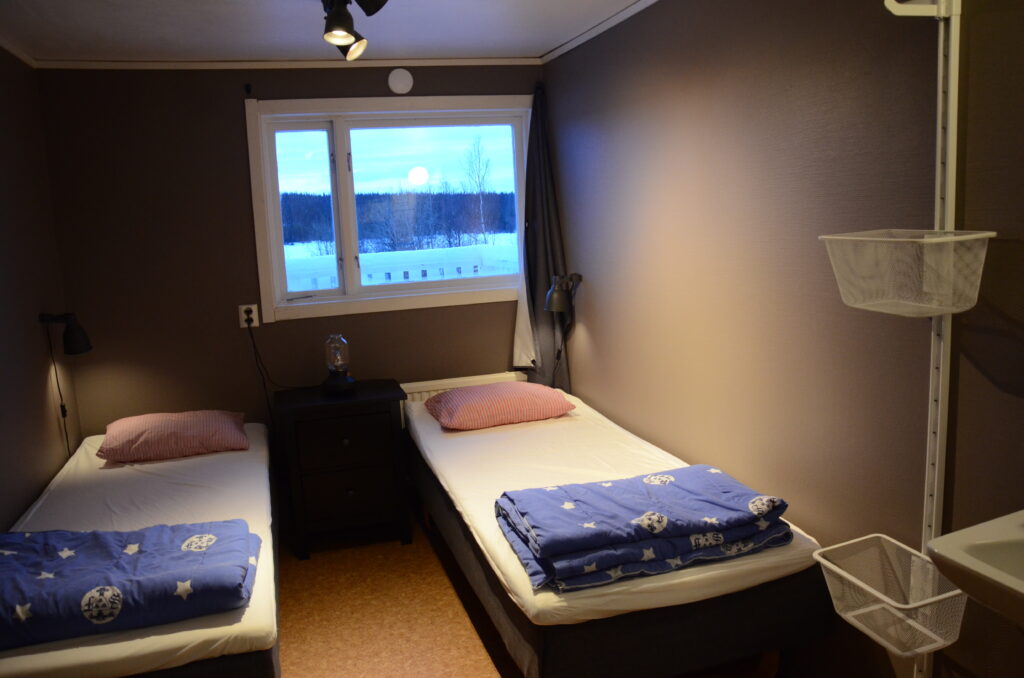 The rooms on the upper floor of Kultsjögården has one, two, three or four beds in each room. From the hostel you can go out on a shared balcony facing south with a view of Insjön and Satsfjället. Out in the yard there is a common barbecue area.
Here you get access to generous common areas. In the dining room you will find three dining tables and the kitchen is equipped with stove, refrigerator, freezer, microwave, coffee maker, kettle and utensils. The living room has a comfortable leather sofa and TV. In the corridor there are shared toilets and showers. The different rooms have slightly different equipment. In the single and twin rooms you will find beds on the floor. The four-bed room has bunk beds and the three-bed rooms have both a single bed and a bunk bed. There is access to a washing machine and drying room in the adjoining building.
Längan at Kultsjögården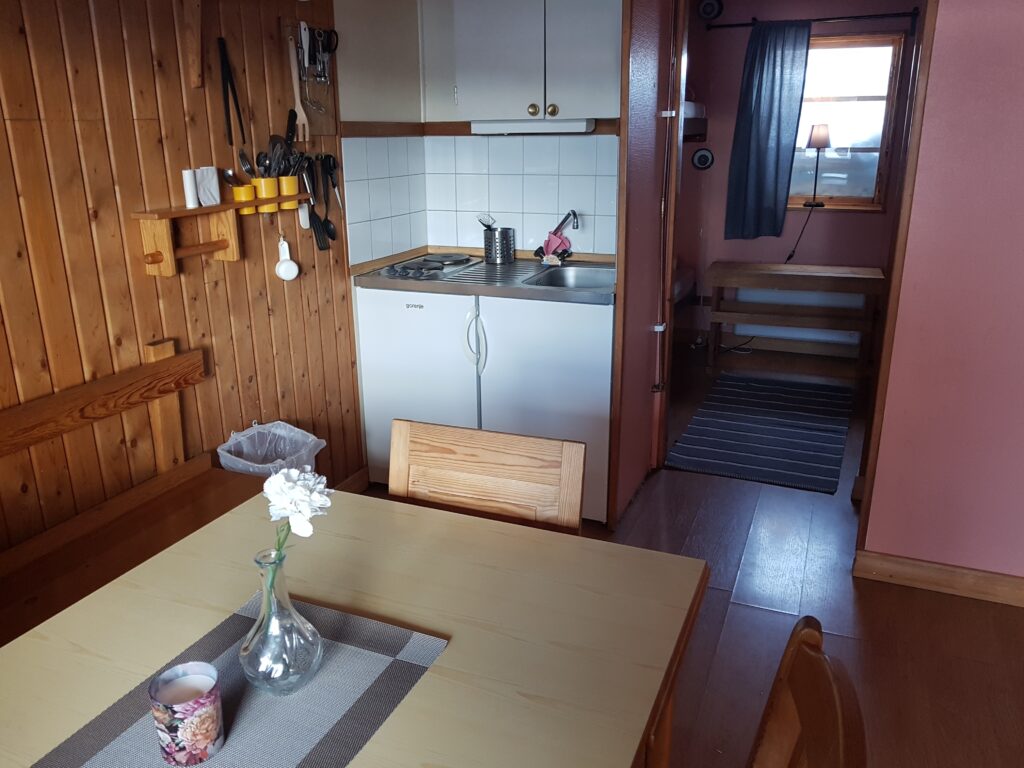 Längan is our "town house" at Kultsjögården. An affordable accommodation with its own entrance for up to 4 people. Outside in the attic hallway you have your porch with a table with bench for each apartment. Here you can hang out with other guests and enjoy the fresh mountain air.
You have here a private kitchen / dining room equipped with triple kitchen, 2 hot plates, refrigerator, sink, microwave, kettle and coffee maker. The dining area has a kitchen table, sofa, chairs. In the apartment you have a private washbasin. The bedroom consists of 4 beds in bunk beds. In Längan there are shared toilets, shower, freezer, washing machine and drying room as you reach the attic corridor.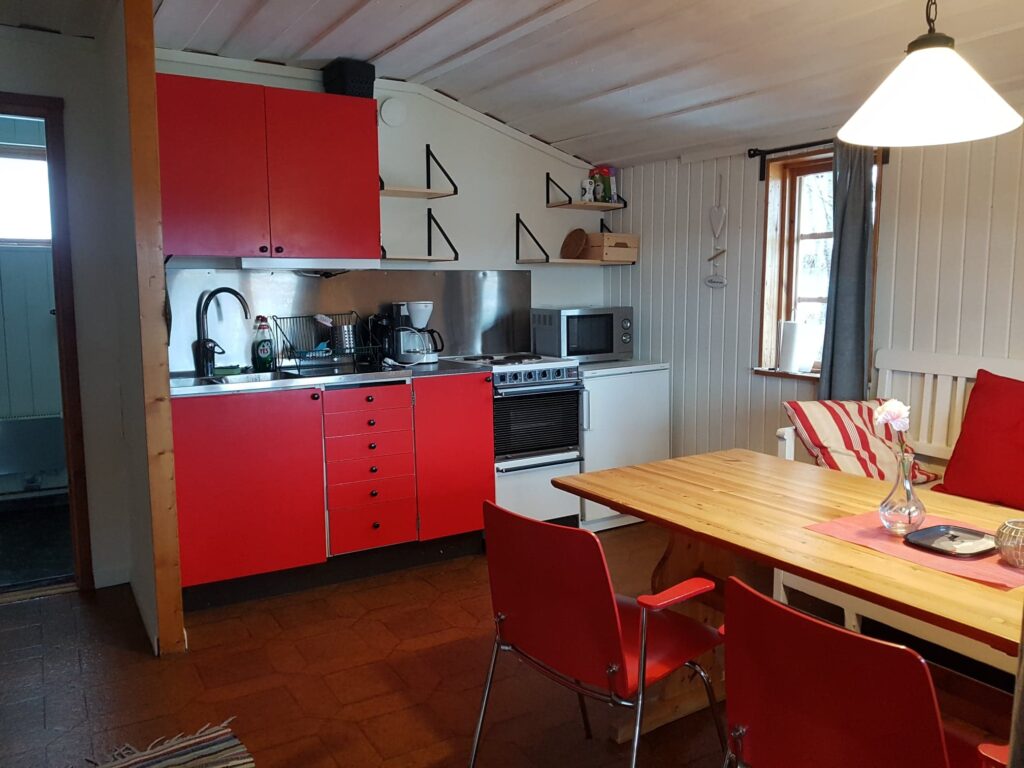 Fjällstugor 4-bäddar ligger på baksidan av Kultsjögården. I dessa stugor bor du privat med självhushåll. På din veranda i söderläge kan du njuta av solen under vackra sommar- och vinterdagar.
Du har ett eget utrustat kök med spis, kyl, micro, kaffebryggare, vattenkokare och husgeråd. Matplatsen har köksbord, kökssoffa och stolar. Inne i stugan har du en privat toalett och dusch. Stugorna har 2 sovalkover med våningssängar. Du har tillgång gemensam grillplats ute på gården. Tvättmaskin, torkrum och frys finns i angränsande byggnad.
Log cabins with wood burning stove in Saxnäs
Timber cabins 4-6 are made with a wood burning stove in Saxnäs. These cottages are located about 700m from Kultsjögården near where you have an adorable view of Kultsjön towards Marsfjällen
Here you live in privately owned cottages, where the equipment can differentiate between the cottages. All of the cottages has a kitchen with living room and wood burning stove. The kitchens have dining tables and chairs, they are equipped with stove, refrigerator, freezer, microwave, coffee maker, kettle and utensils that can vary. The living rooms have sofas / armchairs and a TV. Toilet with shower and sauna is available in all log cabins (except in Älgen 1 where the sauna has been removed). They all have two bedrooms with varying single or bunk beds.
Optional
Order cleaning, preferably in connection with you making your booking and no later than one day before your departure. (Uncleaned cottage will be charged later)
It is possible to rent bed linen set including towels for your stay
You can also order beds made with bedlinen
Other information
Dogs are welcome in most of our homes (not in Vargen) remember to bring your own bowls and beds for the dog.
No dogs in the furniture.
Indoor smoking is prohibited, charged with cleaning fee.
If something breaks inform the reception no later than the check-out date