---
To hunt/ to shoot in Saxnäs and surrounding area
The Autumn and the winter are the seasons for the hunter in the forests close to the mountains surrounding Saxnäs.
Regardless if you are scouting for willow grouse or ptarmigan in the mountain terrain or for capercaillie and black grouse in the forest; it´s a great hunting adventure to experience.
The experience of hiking over mountain moors surrounded by the splendor of autumn or skiing through forests wich are heavy with snow are amazing.
The mountain terrain around Saxnäs is characterized by it´s easy accessibility. The grounds are easy to hike and are easily reached by car and a short hike or by skis. You will find the traditional birch-dominated forests close to the mountains and at "allmänningens" woodlands it will mostly consist of spruce forests with elements of bogs and clearings.
You can combine your hunting with accommodation in our cabins or rooms at Kultsjögården in Saxnäs. Shooting license for the "statens" and "allmäninngens" grounds are available for purchase at our shop: Fiskecentrum i Saxnäs.
Dates for small game hunting
25/8 – 15/3 willow grouse and ptarmigan are allowed to shoot during the entire period.
25/8 – 15/11 Black grouse, Capercaillie & yarrow: both female and male are legal to shoot.
16/11 – 31/1 only roosters in tree tops may be shot, hens are protected.
1/9-28/2 Hare
Fiskecentrum and Kultsjögårdens reception are situated in the convenience store Marsfjällshandlarn. Here you have the opportunity to buy food, souvenirs, fishing- and outdoor equipment, petrol and some car accessories too.
HUNTING PACKAGE for 3 or 5 days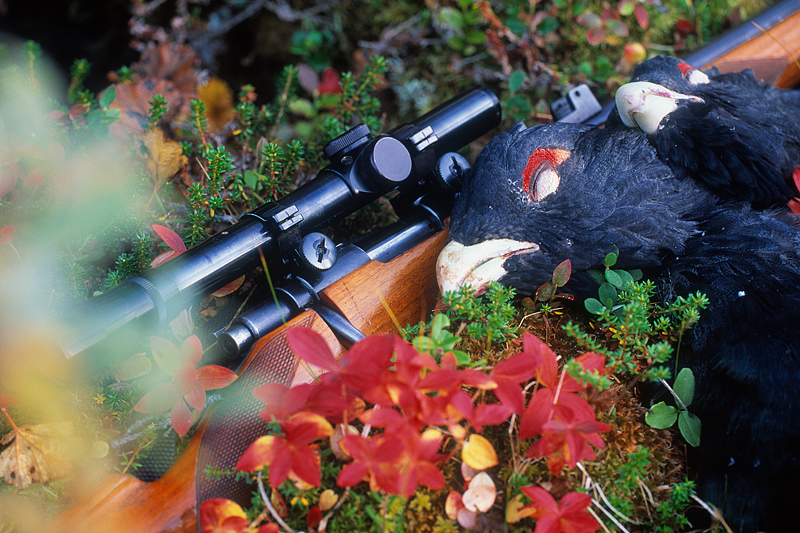 The hunting package includes:
Self-catering accommodation for 3 or 5 nights..
Introduction, map and hunting license for public hunting grounds (statens) 3 or 5 days.
Travel information
Day 1: Arrival in Saxnäs and check in at your chosen accommodation. You will get an introduction to the hunting in the area with one of our guides. You will receive a map, information material and hunting license for the area for 3 or 5 days.
Day 2-5: Time to hunt on your own in the area based on weather, wind and other current conditions. You can get further information and suggestions every day from our guide at Fiskecentrum.
Please do the final cleaning and check out on your departure day before 11:00
Dates: 25/8-15/11 for autumn or 15/11-15/3 for winter with snow.
Stay comfortably with our add on´s:
Book final cleaning of your cabin or room. ( A cleaning fee will be charged later if the cabin or room are left untidy)
Rent bed linen including towels for your stay.
Do not want to make the bed? Add this and we will make the bed for you – ready to use at your arrival.
Good to know:
In most of our accommodations, you are allowed to bring your dog with you. Please remember to bring your dogs own bowls and beds. We do not want you to use the equipment in the kitchen for serving your pets food or let your pet sleep och lay down in tne cabins/rooms beds.
Suggestions for things to bring with you to make it a great hunting day:
Clothes according the weather conditions
Skis / poles
Ski skin (Stighudar)
thermos flask for hot drinks
binoculars
insurance
weapon
Shooting license
Food and snacks
Something to drink
Map, compass and GPS
If you are going out alone, remember to leave us a note about where you are headed and about what time you think you will be back. It is for your own safety so we know when and where to look for you if you do not come back.
Please fill in the form below with your preferences about dates and number of guests and we will be in touch with suggestions for your visit.
(dates, number of days, how many guests)